Congress takes on Shanta Kumar for cozying up to Dhumal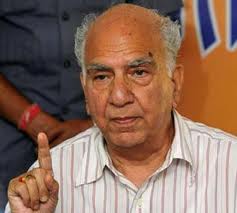 Shimla : The Congress's election in-charge of Himachal Pradesh Birender Singh, Monday expressed surprise over the statement of BJP national vice-president Shanta Kumar, saying P.K. Dhumal will become the chief minister for the third time.
"It's simply a marriage of convenience," said Birender Singh.
He said it was Shanta who in the past five years of the BJP government was openly criticising Dhumal and his MP son Anurag Thakur over corruption, illegal purchase of land and assets and their style of functioning.
"Surprisingly, the man who is known for his ideology, principals, discipline and political decency has surrendered himself in front of these corrupt BJP leaders," he said. "It's simply an endorsement to the corruption. This neo patch up has exposed the credibility of Shanta Kumar," he added.
The man who was humiliated publically a number of times by Dhumal's blue-eyed minister Ravinder Ravi and has even threatened to quit from all party posts, surprisingly is singing songs for Dhumal. It's called a marriage of convenience," he said.
"I still remember the statement of Shanta Kumar in the media in 2007 when he said 'there was public response with me but the party shortlisted Dhumal'. His praise for his arch rival Dhumal shows he has surrendered himself," said  Singh.
"It seemed that Shanta is happy after his dream project of hospital in Palampur was fulfilled by Dhumal after arranging funds from a multinational company," he said. He further added that top state political functionaries were involved in illegal property transactions and were promoting realtors.
"The entire Himachal is on sale. We will review and investigate all the projects and scams and fix the responsibilities even on government functionaries," he said.
Even the BJP leaders like Khushi Ram Balnatah, Maheshwar Singh and sitting MP Rajan Sushant have embarassed the party a number of times by not only levelling serious allegations of corruption against the party but seeking a leadership change as well.
"Balnatah and Maheshwar Singh have finally said goodbye to the party but it seems Shanta Kumar has now stamped the misdeeds of Dhumal and his coterie,"  Singh added.