Cart Road sinks yet again in Shimla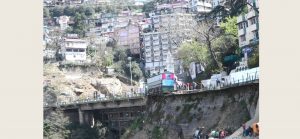 A patch of the cart road has sunk again near the HPTDC's lift, and traffic has been closed in this crowded area of Shimla on Tuesday.
This has happened for the third time. A year ago this road had sunk and no traffic was able to run for over 70 days causing a lot of problems to locals and tourists.
The situation could get worse as the wall below the rain shelter could collapse and once again the entire wall will have to be built and could take many weeks.
Sources say besides the parking building sewerage leakage was causing the road to sink.
The cart road is the main ring road in the hill station and carries majority of the traffic.
Traffic has now been diverted on the Khalini by pass.