Amar Prem : Rajesh Khanna at his charming vulnerable best : Review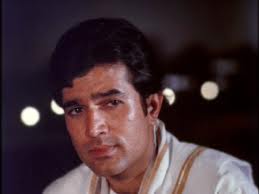 Watch this film for Rajesh Khanna as Anand Babu , for his inimitable charm and vulnerability
After watching Amar Prem (1972) anyone can understand why he was such a rage and a super star like nobody else in the history of hindi cinema.
Watch this film for some of Kishore Kumar's best songs ever .The simple but memorable lyrics are by Anand Bakshi . R D Burman is here at his peak . Remember RD and Bakshi did around 100 films together .
Who can forget Kishore Kumar's three great songs picturised beautifully on super star Rajesh Khanna , Chingari koi bhadke , Kuchh toh log kahenge and Yeh kya hua .
Raina beeti jaye and Bada natkhat hai yeh (Lata) reminded me of Aradhana . Sharmila Tagore had similar but powerful roles in both these two Shakti Samanta hits .
And that haunting S D Burman song , Doli mein bithai ke creates that rare classic Amar Prem .
The film is about the toll human relationships have taken in the new changing world .