Airlifting on in Himachal , Virbhdara flies into Kinnaur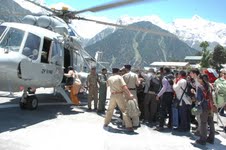 Shimla : Evacuating of people continued on a clear day Friday from rain ravaged tribal Kinnaur district of Himachal Pradesh even as the death toll remained at 17 .
 Chief minister Virbhadra Singh was in Kinnaur Friday to monitor relief and rescue operations .
 "In the last three days around 600 people have been airlifted from Kinnaur ," Singh said .
 Officials say around 400 people are still stranded all over Kinnaur which remains cut off by road from the outside world due to triggering of landslides at many places in the mountainous terrain . Kinnaur district borders Tibet .
 "At the famous Tabo Buddhist monastery a group of tourists mostly foreigners including many Germans are stranded and efforts are being made to move them out soon,"the chief minister said .
 "I have held several meetings in Kinnaur directing officials including the Public Works Department(PWD) and Border Roads Organisation(BRO) to work round the clock in the offering relief and opening of all roads within a fortnight," Singh said .
 "The administration will continue to be on high alert until the situation normalises ," he said .
 "A lot of farmland has been damaged including apple orchards I have asked the horticulture officials to visit every orchard and assess the damage ,"he said .
 Three helicopters including two of the IAF are carrying out sorties .
 Sources say fewer sorties took place Friday as like Wednesday , fuel shortage for helicopters was a problem again .