8 #Himachal districts battling forest fires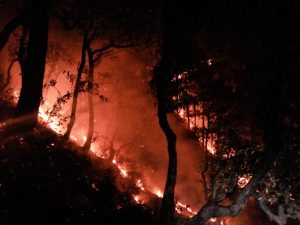 Shimla : After massive damage to forests in Uttarakhand fires are now blazing in the neighbouring hill state of Himachal Pradesh and causing widespread damage.
"Eight of the 12 districts are affected by forest fires in Himachal Pradesh with 378 fire incidents in the last month across the state," the state forest chief S P Vasudev(PCCF Himachal government) said Tuesday.
Fires are mainly spreading in the mid hills of the state in the dry Chir pine forest floors.
Fires are blazing in around the popular resort town of Shimla with smoke hanging on the horizon. The state capital recorded the highest temperature of 29.8 C on Monday several notches above normal.
Fire has spread into a Muslim cemetery in Shimla. The town is surrounded by thick pine deodar and oak forests.
Bigger fires are also reported from the nearby hill station of Solan. Fires are seen perilously close to the Kalka-Shimla railway narrow track at some places.
The over a century old track is a well known UNESCO world heritage site and is dotted by tiny railway stations with most structures made of wood.
On Monday six train services were affected on the Kalka Shimla track.
All trains on the 96 km track are packed with holiday makers including foreigners.
Already close to 4000 hectares have been damaged by fires across the hill state officials say.
A senior police official Sanjay Kundu(ADGP law & order) said, "An alert has been sounded across the state and police, fire tenders and volunteers have been pressed into service to put out the fires"
The weather is also likely to offer some respite with chances scattered showers over the next few days.