6 die as bus falls into river in Himachal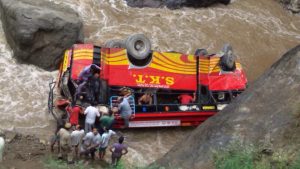 Shimla: Six people were killed and 24 injured when a bus skidded off a bridge and fell into a river in Himachal Pradesh's Rampur area, early Friday.
The private bus was on its way from Jeori to Shimla. The accident took place as the driver apparently lost control while crossing the bridge and the bus plunged into the flooded Machhada river below.
Police said six bodies have been recovered including two women while the injured have been shifted to a hospital at Rampur 15 km from the accident spot.
Locals said the bus may have skidded off the road due to mud on the bridge after heavy rains.Nearby villagers heard the cries and rescued the injured and pulled out the dead bodies.
Police have not ruled out more bodies in the river which is a tributary of the Sutlej some 115 from Shimla.