18 dead in Himachal bus plunge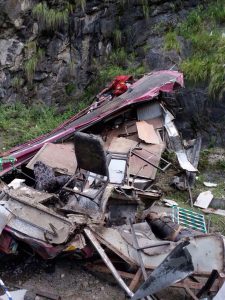 Shimla : At least 18 people were killed and 15 injured when a bus swerved off a mountain road and fell into a 300 feet deep gorge in Himachal Pradesh's tribal Kinnaur district, late Tuesday.
"Fifteen people died on the spot and three died on way to hospital," Rahul Nath a senior police officer(SP Kinnaur) said by phone.
The bus was on its way from Rekong Peo to Rampur and met with an accident near Nathpa some 175 km from the state capital.Nathpa is also known for India's largest hydro electric project, the 1500 MW Nathpa Jhakri project.
"The bodies have been pulled out of the gorge and have been identified.The autopsy is being carried out on the spot and bodies are being handed over to their families," he said.
State transport minister G S Bali said, "On the basis of preliminary reports eyewitness said the bus accident took place while it was overtaking another vehicle on the narrow winding road."
The injured have been rushed to hospital. Three are said to be in a serious condition.
Tribal Kinnaur is a highly mountainous and remote region.