105 riders for MTB #Shimla 2018 rally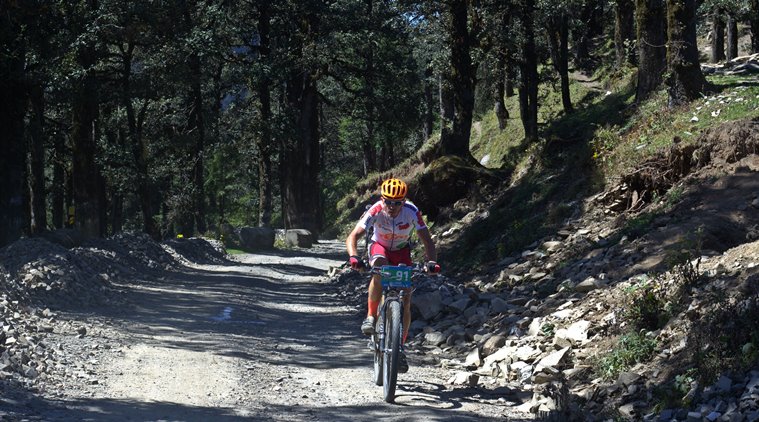 Shimla : HASTPA and Hero Cycles are back with their annual MTB challenge, Hero MTB Shimla this time will be held from 13th-15th April with 105 riders expected.
 
The race takes the riders through some of the most pristine parts of the lesser Himalayas.
 
This time riders will pedal their way through gut wrenching uphill tracks, speedy downhill tracks, village back roads, beautiful meadows, thick vegetation and jeep tracks. Covering 120 kilometers in 2 days with an elevation gain of 3500m and highest elevation of 2350m across a new route.
 
The race route starting in Shimla, takes the riders through Kufri, and finally concludes at Mashobra on Day 1 after riding a competitive distance of 75 km.
Day 2 will be flagged in at Craigneno, which sits at an altitude of 7,700 ft above sea level and is situated on the Shimla-Naldehra Highway.
This year, the race will witness participation from 105 confirmed participants, from over 7 nationalities (India, Nepal, UK, Australia, New Zealand, Germany and Czech Republic) and 23 cities (Shimla, Manali, Mumbai, Pune, Gurgaon and Chandigarh) .
 
This year, the race has received participation from northern cities like Gurgaon, Didihat,   Shimla, Solan and Manali, where the sport is predominant as well as from the cities in south such as Bangalore, Mumbai and Hyderabad.
Professional cycling teams including Hero Action Team, Steadfast Nutrition, Merida Cycling team, and riders from Armed Border Forces- Seema Shastri Bal, Pedalyatri, Aravali Trail Hunters and Walk to Himalayas, will also be taking part in the race.
Shimla boy – David Kumar, the winner of the last edition of Hero MTB Shimla, will be defending his King of Shivalik title this year.
28-year old German Sarah Appelt who rides for Hero Action Team rider will be defending her Queen of Shivaliks title to score a hattrick this season
 
The prize distribution ceremony of the race will be graced by Chief Guest Himachal chief minister Jai Ram Thakur on April 15 at Woodville Palace, Shimla.