Two self immolate in Tibet
Dharamsala : Two Tibetans have set themselves on fire in Ngaba region of Tibet  and died, the Tibetan government in exile in Himachal Pradesh said Friday .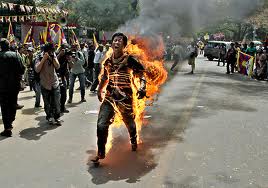 Sonam and Choepak Kyab in their 20s were nomads .
On Feb 19 an 18 year old Tibetan Nangdrol also died due to self immolation .
Since 2009 , 35 Tibetans in Tibet have set themselves on fire demanding freedom from communist China .
They also want the Tibetan spiritual leader the Dalai lama to return from exile .