Tourists unable to make it to Rohtang pass due to slush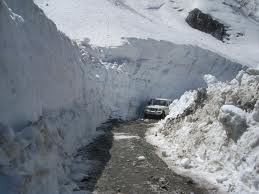 Shimla : Road widening work is preventing thousands of tourists from travelling to the popular Rohtang pass for the third day in a row from Manali in Himachal Pradesh .
Media reports said the Border Roads Organisation (BRO) is carrying out road widening work at Marhi 35 km from Manali due to which huge piles of slush and mud have collected on the road making it difficult for vehicles to cross over .
This is the peak tourist season in the Kullu valley . But tourist vehicles  heading for the pass are returning from Marhi  16 km short of the pass. The Rohtang pass is 51 km from Manali .
The high mountain pass connects the Kullu and Lahaul valleys . Situated at height of 3978 m every day thousands of tourists visit the spot . It remains closed for half the year due to heavy snowfall .