Theft in Virbhadra's Sarahan house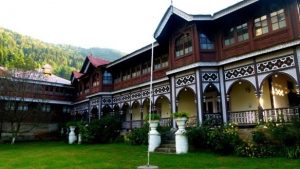 Shimla: Thieves have not spared even the chief minister of Himachal Pradesh. Sunday morning caretakers of Virbhadra Singh's Sarhan house discovered somebody had broken into the house.
This despite the house(a palace) is looked after and guarded by 24 people. For the last couple of days a local fair was on at Sarhan.
Police said silver items weighing some 3 kg have been found missing in the house.ADGP Sanjay Kundu has rushed to Sarhan to investigate the case.
The opposition BJP has said that the law and order situation is so bad in the state that even the chief minister's house has not been spared. In such a situation how can the common man feel safe, the state BJP president Satpal Satti said.
At an elevation of 7589 ft Sarhan is 170 km from Shimla. It used to be the summer capital of Bushahr. The Bhimakali temple is a major attraction here.