The real life of Naseeruddin Shah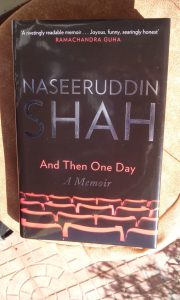 Just like the art cinema of Naseeruddin Shah which is real, harsh and brilliant his memoirs(And Then One Day published by Penguin) also stand out and turn out to be equally real,harsh and brilliant.
Just as there is no glamour and mindless escapism in his early cinema there is none  of this in this honest account.
This is a book about his unhappy youth, his troubled relationships with his father and his first wife. And his struggles as an actor despite being immensely gifted.
Naseer tells us since an early age his only solace was the world of cinema ,not the Hindi cinema which they never showed in school but the great old Hollywood cinema which he watched mesmerised in his school in Nainital .
Here he also fell in love with theatre particularly after he saw Geoffrey Kendal and his group perform Shakespeare. And when he took to the stage he knew instantly that he was born to act.
His frustrations in conservative Aligarh Muslim University . His scandalous relationship with a far older Pakistani woman on the campus whom he married. We learn about his long training as an actor at NSD Delhi and at FTTI Pune.
Talking about the glorious days of Indian theatre he saw in his 20s he says,"These performances from the 1970s for me touched perfection and demonstrated the level it is possible for an actor on stage to achieve."
"I consider them the greatest theatre performances I have ever seen anywhere in the world."
His luck when Shyam Benegal picked him for Nishant and a host of films which were to follow.Many of these classics have now achieved cult status for serious film goers.
Naseer also tells us about his disturbing relationship with his friend Jaspal at NSD and FIIT.
Jaspal and Naseer were so close that the two room mates were considered inseparable for years. And then Jaspal is struck by mental illness and turns hostile to Naseer almost stabbing him to death if only Om Puri hadn't saved him.
Working for the making of Sparsh as a blind school principal he says, "Sparsh—-proved to be a great energiser and a strong antidote to the rubbish I was doing."
"Performing in the film was totally painless and totally pleasurable.Shabana was wonderfully supportive and encouraging, as she has always been to me through my career."
He tells us about Aakrosh, "Om's salt of the earth intensity finally caught the eye of many a film-maker, but it was Govind Nihalani who recognised the magnetic simplicity in his screen presence and cast him in Aakrosh as the anguished silent Adivasi, wrongly accused of his wife's murder,Om's definitive film performance."
"I was to play the defence lawyer and Amrish Puri the prosecutor. I got barely a day's break between arriving in Bombay and leaving for Alibag for this shoot.It was a wrench coming from the gentle dreamlike world of Sparsh to this hard-edged portrayal in small-town corruption and its constant progenitors—lust and politics."
I think Sparsh is an outstanding performance one of Naseer's most sensitive and memorable roles.
When Smita Patil advised him to apply for the job of a radio announcer with All India Radio he was rejected.Imagine rejecting a man with a great voice and diction of Naseeruddin Shah.
No surprises, AlR even rejected Amitabh Bachchan for the same job some years before him.
Talking about Peter Brook he says ,"Peter was equally intent on mythologising himself and had not only never bothered to learn how to pronounce the word 'Mahabharata' , he turned out to be easily the vainest,most self-absorbed person I have ever met."
Naseer was certain he would get to play Gandhi in Richard Attenborough's magnum opus.
"The first sight that greeted me in the corridor was the back of Ben Kingsley's head and my heart sank.He turned around as we were introduced and it went further down somewhere near my ankles. The man already looked like Gandhi that I ever could. I had been too smug in my belief that there couldn't be an English actor who could manage the resemblance but there he was right in front of my eyes."
Just like the films of Naseeruddin Shah this book about his life is certain to become a classic. I won't be surprised if it wins a major award.
It deserves to become a classic for it is the life of a remarkable man, one of the greatest actors of his times in the world.