Shimla's snowman maker : Tibetan refugee
Shimla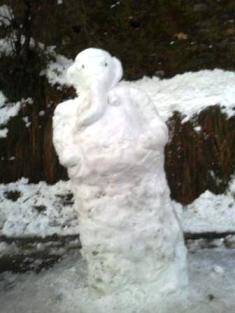 : Every year when it snows heavy in Shimla perhaps the biggest snowman in town is almost always built by a Tibetan Buddhist refugee who runs a popular Tibetan handicrafts emporium at the edge of the Mall street.
This time is no different , the snowman is even bigger at least eight or nine feet tall and big bellied . It has to be big bellied as this time it is no ordinary snowman but Ganesha the elephant god .
The snowman like always stands opposite the handicrafts emporium where it will last for weeks in the shade of the  tall trees .
Passers by on this busy street often stop to admire and even click photographs of the snowman and continue walking on the icy road , this time the snowman may even bless you as it is the wise Ganesha.