Shimla's giant tricolour torn again by winds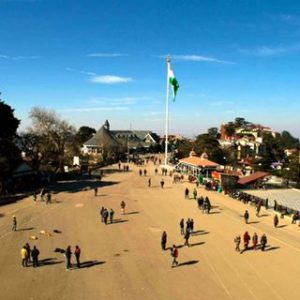 Strong winds on the Ridge in downtown Shimla have ripped apart the giant national flag yet again. In the last four months four flags have been damaged by the winds and the fifth one was raised on Tuesday.
The 100 feet post with a giant tricolour started fluttering on the Ridge in mid December last year.
The fabric of the flag is satin as it flutters nicely but tears up quickly.
The tricolour is the latest attraction on the Ridge which is one of the most popular spots for tourists visiting this hill station.
Shimla civic body sources said a private company is looking after the flag post. Only one more flag remains in stock now.