Shimla's burnt Gorton Castle to be rebuilt in old style: Virbhadra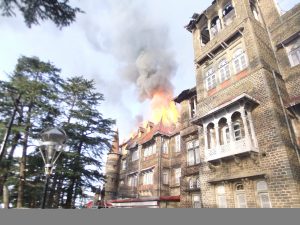 Shimla : After fighting a burning heritage building for hours firemen were able to put out the blaze Tuesday but not before the top section of the Gorton Castle(AG office), one of Shimla's most majestic building was destroyed by the fire.
A large chunk of the records of India's Auditor General were reduced to ash in the top two floors . The entire multi-storied building houses the AG office .
The fire was detected in the early hours , a probe has been ordered said Satish Looma , Prinicipal Accountant General .
Chief Minister Virbhadra Singh visited the site and assured, "The original grandeur of the Gorton Castle will be restored by rebuilding the monument in British colonial style."
"The work will be carried out speedily. And the state government will provide deodar and other pine wood to build he structure ," the chief minister said .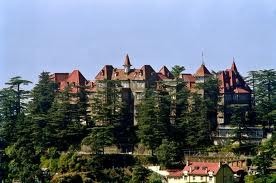 The multi-storied solid grey stone and deodar wood building was built in 1904 . On its centenary it was declared a national heritage building by the government .
The same year the postal department released a postal cover on the building .Since independence it has been the office of the auditor general of India .
Shimla which served as the summer capital of colonial British India has many impressive buildings of that period. Some of these have also been destroyed by fires over the years .