Shimla 's Book Cafe run by prisoners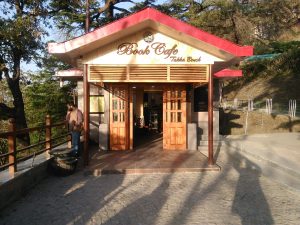 A recently opened unique Book Cafe overlooking this picturesque Himalayan town has the potential of becoming an iconic cafe due to its location and also because it is run by prisoners.
Elegantly built using Himalayan timber and stone the tiny place is attracting many visitors including tourists.
The place offers a bird's eye view of the Ridge the main promenade of the hill station and a breathtaking view of snow clad Himalayan ranges in the distance.
"What makes this book cafe unique is that it is run by prisoners including two who are serving life term," said Shimla deputy mayor Tikender Panwar.
The cafe has been built at a cost of Rs 2 million and is owned by the local civic body.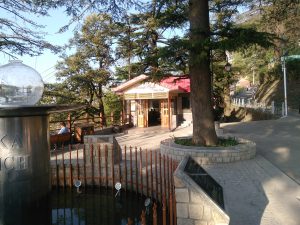 Jail superintendent R S Bhatia said, "this is a jail reforms effort, these prisoners have been trained in the best hotels in town.The baked food items served here are prepared at the local jail bakery."
Jaichand who has already served eight years hands over a steaming cup of coffee and says, "this is a dream come true for me!"
His colleague Yog Raj adds, "am so lucky to connect with the outer world."
Two other jail inmates assist them at the cafe.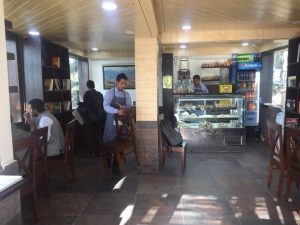 There are mostly English classics at the Book Cafe and the most popular is turning out to be Rudyard Kipling's Plain Tales from the Hills which is set in these hills.
Shimla is sometimes called Kipling's town as the Nobel laureate spent many years in this Himalayan town.
"We are soon adding more books and have even appealed to donate books to the book cafe," Shimla Mayor Sanjay Chauhan told Sun Post.
Shimla is a popular round the year destination with both Indian and foreign holiday makers.
The hill station served as the summer capital of colonial British rule and is currently a bustling town and capital of Himachal Pradesh.