Shimla police seize 12,000 gutka packets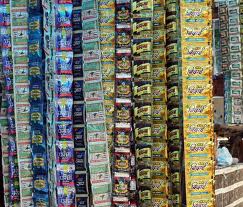 Shimla : Police in Shimla have arrested a man with  around 12,000 packets of gutka packed in six sacks . He was nabbed near the old Shimla bus stand Saturday .
A spokesman of the Shimla police said Rakesh a local man was transporting the banned tobacco product to a store to later sell the product in black market .
The sale of gutka and similar tobacco products were banned by the Himachal Pradesh government last October.
But despite the ban the demand remains and sales of gutka at a high price continue quietly in many parts of the state .