Shimla garbage plant obsolete seeks Dutch help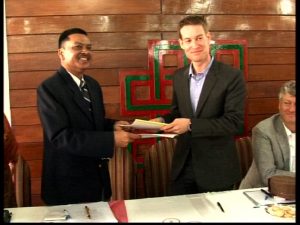 Shimla :With the Himachal government declaring the recently built garbage disposal plant in Shimla outdated the hill state is now looking for help from Dutch experts to take care of the growing garbage.
The state government on Monday signed an agreement with Nexus Novus a Dutch firm to prepare a feasibility study report in the next six months.
"This feasibility study report will cost 51565 (Euros) and the entire cost will be borne by Nexus Novus," Rutger de Bruijn managing director Nexus Novus said.
"The report will cover three clusters of Dharamsala-Kangra, Shimla-Solan and Mandi-Kullu-Manali," he said.
"We will suggest ways to manage waste management involving the local people. Focus will be to segregate waste at the source," he said.
Experts said although house to house garbage collection was taking place in many towns of the state but segregation of bio-degradable and plastic waste not being done.
The maximum garbage was being generated by two popular tourists destinations of Shimla and Manali.Due to narrow roads and steep terrain collection of waste was also difficult in these towns.
Also there was a challenge to keep away monkeys, stray cattle and dogs from garbage collection sites.
There was even a proposal to install caged garbage bins to keep away these animals.
"If we succeed in cleaning up these hill stations more tourists will flock in," said Bruijn.
J M Pathania director urban development department said the newly built garbage disposal plant on the outskirts of Shimla at Chakkar was obsolete and the latest expertise was needed to handle waste in the state.
Nexus Novus is in the early stages of helping out many state governments and civic bodies across India.