Rs 15 lakh for Delhi Tibetan fire victims
Rs 15 lakh for Delihi Tibetan market fire victims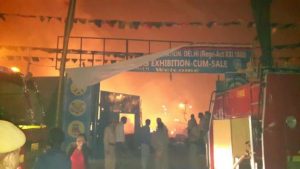 Shimla: The Kashag of Central Tibetan Administration sanctioned 15 lakh for immediate reconstruction of the Red Fort Tibetan market in Delhi which was gutted in a fire on Nov 8.
The Central Tibetan Administration has assured it will do its provide further support for the affected people.
The fire broke out around midnight on 7 Nov . Due to combustible nature of goods at the shops, the entire market, consisting of 138 shops, was charred in the fire.
The sentry called fire service which arrived within half hour but were unable to extinguish the flames.
Although there was no loss of life, damage to the merchandise is estimated at Rs12 Crore. Settlement officer reported that request has been made to local Indian leaders and supporters. Some donation collection plan are also in the offing, a spokesman said.
Sweater selling has been one of the main livelihood of majority of the Tibetan refugees in India. With the onset of October, Tibetans are scattered in different parts of India selling sweaters in makeshift Tibetan Refugee market until February.