Renewed threat to Shimla's clarkes hotel building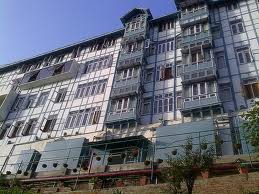 Shimla : A fresh landslide Thursday at the edge of the 110 year old Oberoi Clarkes hotel building in this Himachal Pradesh capital has once again threatened this heritage monument .
Heavy monsoon rains during the past few days triggered a fresh slide and sinking of a retaining wall below the hotel and blocked the cart road for over six hours .
With more heavy rain forecast this week more slides could be triggered at this point where Himachal high court lawyers are building offices for themselves .
There has been a lot of criticism of these lawyers by many here for carrying out digging work on this steep fragile hill side barely a few weeks before the onset of the rainy season .
A worried hotel staff have covered the entire area downhill to drain out the rain water and avoid more damage to the sliding hill side .