Reckless road digging echoes in Himachal house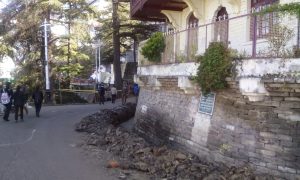 Shimla :The alarming rise in digging of roads in Himachal Pradesh to lay optical fibres,water and sewerage pipes was raised by some opposition members in the state assembly here Thursday.
Rajiv Bindal of the BJP said since there was no coordination between various goverment departments often the digging of roads began soon after roads were freshly tarred.
He said this was obviously causing great inconvenience to the people. Besides water seepage into the dug up roads triggers wall collapses and sinking of roads in the steep terrain of the hill state.
He pointed out the digging was not only done manually but by using powerful JCB machines which causes far more damage to the freshly built and tarred roads.
Bindal urged the government to bring in a policy to make it compulsory to build service lanes at the edge of roads so that optic fibre ducts,water and sewerage pipes can be easily buried into the soil without causing damage to the main road.
Besides Bindal,Gulab Singh,Maheshwar Singh, Inder Singh and Vinod Kumar also spoke on the issue and voiced similar concern.
Responding to the resolution Chief Minister Virbhadra Singh agreed there was a problem of frequent digging of roads. But he rejected the proposal of building service lanes as it was very costly.
Reacting to this Bindal said if constructing of service lanes was expensive the government should at least ensure that various government departments and private parties coordinate and carry out the digging less frequently instead of doing it round the year.
The total length of roads in Himachal is 33,736 km.