Only 1000 vehicles can go to Rohtang Pass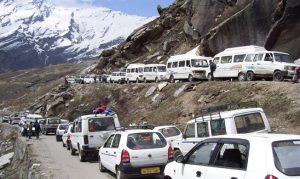 Shimla : In view of the recent National Green Tirbunal's concern over the need to checking the growing pollution at the Rohtang Pass the state government has come up with a plan to restrict vehicles to the pass.
Officials say starting Friday only 1000 vehicles will be allowed to drive up to the pass every day.And 60 per cent of these will be petrol run and the remaining diesel run.
Half of these will be taxis with Kullu registered number plates. And 30 per cent will be vehicles from outside the state.
Every vehicle will be checked for pollution at Vashisht and Gulaba. And those failing the test will not be allowed to go uphill to the pass.
Also a petrol vehicle will be charged a green tax of Rs 1000 and diesel vehicle Rs 2500 to go up from Manali.These permits will be issued by the office of SDM at Manali.
The scenic 13,050 ft high Rohtang Pass is located 51 km from Manali.It is one of the most popular spots in the Kullu valley.
But overcrowding of vehicles and people over the years has taken a toll on this fragile spot.