Nothing for Himachal in rail budget : Virbhadra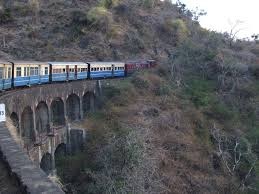 Shimla :The Himachal chief minister minister Virbhadra Singh is disappointed with the NDA's railway budget presented Tuesday .
Reacting to the rail budget the six time chief minister said,"The rail budget neither contains proposals for extension of rail lines nor converting the existing rail tracks into broad gauge."
"The NDA has given nothing to Himachal except assurances," Virbhadra said .
"I had personally pursued the state issues for extension of the Bhanupalli-Bilaspur-Beri rail line via Manali till Leh, as it is strategically important. Also Bhanupali- Bilaspur- Beri line till Pathankot passing through the lower belts of the state, " he said.
"The budget has not considered our request for a rail link to the industrial belt of Baddi-Barotiwala from Pinjore on Chandigarh—Shimla rail line," he added.
"Last year few surveys for new lines and extensions were announced but there was no mention of these this year, " he said .