NBT Shimla book fair from June 30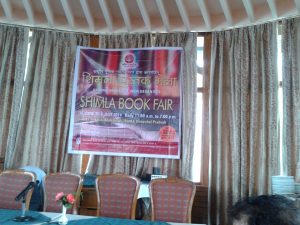 Shimla : The week long NBT Shimla book fair gets underway from Monday at the Gaiety theatre , organisers of the event said here Sunday.
"We had requested the state government for bigger space to accommodate 50 stalls, but with smaller space available we will be able to put up only 30 stalls," M A Sikandar, director, National Book Trust(NBT) said .
The fair will be held from June 30 to July 6 , 11 am to 7 pm . It will be opened by the state chief minister Virbhadra Singh .
"This year is a double bonus for the people of Himachal Pradesh as it is the second book fair in the hill state within a space of two weeks," Sikandar told reporters .
"Throughout the week we will organise daily literary talks and events involving local writers and readers," he said .
Asked about the recently concluded book fair in Mandi Sikander said the response was good in most of the 42 stalls .
Asked about future plans Sikander said the NBT was in the process of talks with the Indian Institute of Advanced Study (IIAS) at Shimla to bring out a new series old travelogues of Europeans who visited India.Currently such books are highly priced in the market .
Asked about the demand for NBT books in the country he said ,"The biggest demand has been for biographies, children picture books , self-help and careers subjects."
"We have recently signed a pact with the the postal department to improve availability of books through post offices. A pilot project has been launched at Dehradun under Uttarakhand postal circle," he said.
Gradually the project will be extended to all postal circles and our books will be available for sale at select post offices. Our book members can also enrol at these post offices," Sikandar said.
Interestingly Jammu & Kashmir has witnessed the largest demand for NBT books in the last few years.
"There is a lot of bulk buying by institutions and individuals as in the past due to disturbance fewer NBT books were being sold in J &K," he added .