Modi wave only media hype : Virbhadra
Shimla : Himachal chief minister Virbhadra Singh on Sunday dismissed the Narendra Modi led BJP Lok Sabha election campaign as only a media creation saying it was far from the ground reality .
 "It is only Modi stories all day long on tv news channels. The media is not doing this out of love for him but is driven by commercial interests . Air time is being bought on tv," the veteran six time Congress chief minister told reporters here .
 "The reality on the ground is very different and the election results will be very different from what is being projected by the media ,"Virbhadra said .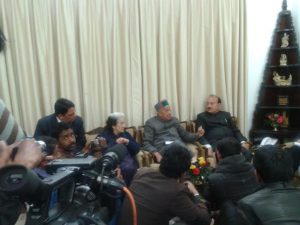 He said after Congress vice president Rahul Gandhi's recent rally in Dharamsala now Sonia Gandhi will hold just one more rally in the state .
 "Personally I am not in favour of holding large election rallies as they are very expensive. In a hill state like Himachal it is far more important to reach out to the people," he said .
 Himachal goes to the polls in the second last phase on May 7 .
 Responding to the opposition BJP leader P K Dhumal's allegation that the opposition's phones were being tapped by the ruling Congress .
 "The investigations into the phone tapping scandal during the Dhumal regime is over and a 'challan'  will be presented soon. An attempt is being now made by Dhumal to scuttle this process by accusing us of tapping their phones,"Virbhadra said .
 Asked about his government's failure to take action against many private universities for allegedly breaking laws in setting up institutions in the past few years which the Congress had opposed.
 "Since these universities have already come up we cannot shut them down. But we are regulating them and have changed the law and made it compulsory for these institutions to be run for at least fifty years instead of the earlier 15 years only,"he said .