Mere Apne : Meena Kumari's tearful goodbye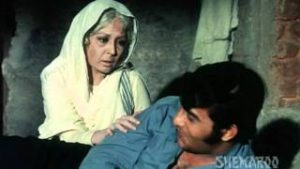 'Mere Apne' is one of those Gulzar films which stays with you long after you have seen it.
It is about youth unrest and changing values in independent India.About an old woman caught up in this changing turbulent world. Meena Kumari strides through the film like a giant dwarfing all in her path, so powerful is her performance.
Despite her poor health she chose to do the role for her friend Gulzar. The entire film was shot in 40 days.
Released in 1971 the film received critical applause and commercial success.It was Gulzar's first film as director. He also wrote the screenplay and dialogues.
It also launched Vinod Khanna and Shatrughan Sinha. Music is by Salil Choudhury.Who can forget that haunting song by Kishore Kumar "Koi Hota Jisko Apna Hum Keh Lete Yaro" .
Vinod Mehta writes in his biography of the tragedy queen(Meena Kumari)."In Mere Apne, as the old woman lured into the big city, she imparts with the aid of her quizzical look and white hair some hint of what it feels to be old and bewildered.Doddering along the street, her posture slightly bent, she looks every inch the woman she is supposed to be."
Mehta writes during the entire shooting of the film she was striken with temperature of 100 to 101 degrees. Yet she arrived on the set as scheduled.
Invariably, she was too weak to walk since her legs were swollen, and Gulzar would help her.She would sit on her allotted chair and wait for the cue.
"When it came, Gulzar said, there was a transformation.The woman that stood up and walked towards the camera was not the sick woman sitting on the chair.Instead, a new woman was visible—the old woman character of my film.You have to see it to believe it.
As soon as the shot was over she was usually so exhausted that she would collapse back on to her chair. However, I did not hear her complain about discomfort said Gulzar.
Gulzar's prolific film career is marked by powerful characters of women who dominate the story.And to me Mere Apne is probably the most dominant of them all !