Is Shimla ready to fight a major fire !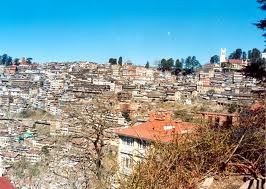 Shimla : The minor fire incident Friday in a downtown Shimla hotel which could have turned into a major inferno and engulfed the Mall area has once again raised questions about the inadequate fire safety measures here.
The Combermere hotel is located in one of the most densely populated areas of Shimla . People dread to think what would have happened if the fire had spread .
Many houses in and around the Mall area are so crowded that even fire tenders cannot come close to put out the flames .
Over the past three decades Shimla's  Raj era wooden buildings have been turned to ash by a series of major fires houses .
The biggest fire took place very close to Combermere on the Mall and nearly half the Mall was destroyed .
Many even doubt if hotels and restaurants in the area have fire fighting equipment like fire extinguishers . Some of the old houses need replacement of old wirings which could spark short circuits any time .
And it doesn't even occur to authorities to check and enforce these measures and avoid a major disaster in future .