Himachal's new excise policy gets cabinet nod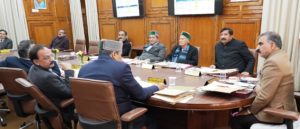 Shimla: The Himachal Pradesh cabinet gave its approval for the auction-cum-tender of retail excise vends in the state for the year 2023-24 today.
It decided to introduce keg draught beer in retail vends with a capacity of 5 litres. Bottling of imported wine in the wineries of the state has been allowed, which would ensure that bestselling high-range wine brands, will now be easily available to the customers.
It has been decided to introduce a new category of liquor obtained by fermentation of fruits and their distillation or by blending.  
The cabinet also decided the L-3, L-4, and L-5, license holders shall be allowed to have mini bars for occupants in all rooms of 3-star rated hotels and above.
An effective, end-to-end online Excise Administration System shall be set up in the State which shall include the facility of track and trace of liquor bottles besides other modules for real-time monitoring.
An official spokesman said the new policy has been framed taking into account all stakeholders which include government, consumers, retailers, wholesalers, bottling plants, distilleries and hotels and bars. All sections were engaged by the department in taking feedback based on which these decisions have been undertaken.  
The Cabinet also decided to introduce Himachal Pradesh Water Cess on Hydropower Generation Bill, 2023 in the coming Vidhan Sabha session and implement it.