Himachal roadways bus driver caught on mobile: fired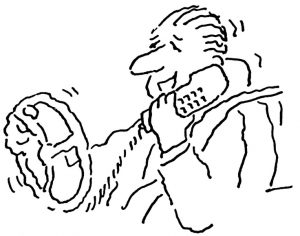 Shimla : An alert passenger captured a Himachal roadways bus driver on video thrice speaking on his mobile phone.He sent the video to the authorities and the driver was suspended from service.
The incident took place Saturday on the Chandigarh-Shimla route. When a man noticed the bus driver frequently speaking on the phone while driving he decided to record his video.
He then sent the video by whatsapp to the transport minister G S Bali and the managing director of HRTC.
Acting swiftly the driver was immediately suspended from service.
The transport officials have urged passengers to report similar incidents on 9418000529
Himachal Pradesh has one of the highest fatal accident rates in the country.
Minister Bali encourages passengers to call him with complaints and often personally answers these calls.