Himachal media : awaits phone tapping report June 15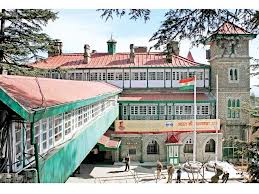 Shimla : Will details of the much talked about phone tapping activity during the previous PK Dhumal led BJP government be submitted to the state government on Saturday .
 Media in Himachal Pradesh Saturday has widely covered this issue here hours ahead of the expected report :
The Tribune has a front page story on this , "Vigilance probe finds phones of babus, politicians, intercepted."
The Tribune says, " The Vigilance inquiry into the alleged phone tapping has prima facie established that telephones of top politicians, bureaucrats, cops, realtors and journalists were intercepted in violation of the Indian Telegraph Act and Information Technology Act."
 A PTI report in the Indian Express says, "The Himachal Vigilance and Anti-corruption Bureau is expected to submit its report Saturday in the alleged tapping of phones during the previous BJP government.
 While an IBN news channel's website says "The probe has been completed and final report is being prepared for submitting it to the government."
 Amar Ujala has a story on the President's summer house at the Retreat saying , "Today the doors of the President's house will open to the public."
 The hindi daily quotes the President's private secretary Amita Pal as saying that Pranab Mukherjee wishes that not only he , his family and guests should ses this 16 room heritage property but the common man should also be allowed in .
 The Hindustan Times quotes the state transport minister G S Bali as saying , "500 new buses to be added to HRTC fleet ."