Himachal invites tips to make plastic purchase scheme efffective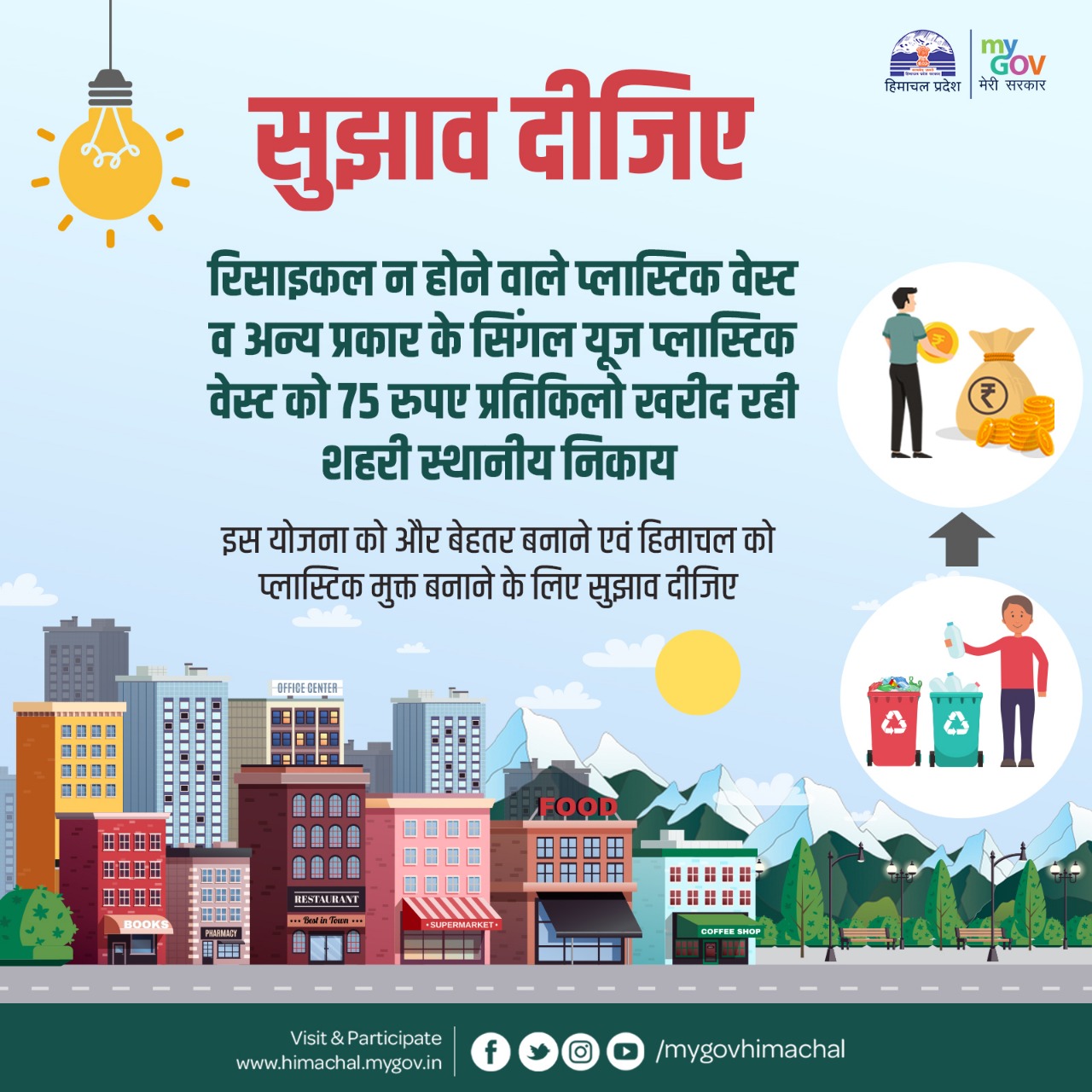 Shimla :To fight the menace of plastic in Himachal Pradesh the government today invited suggestions to popularise the recently launched scheme of purchasing plastic at Rs 75 a kg from people.
A spokesman of the state government said people of the state can give their valuable suggestions on the MyGov Portal https://himachal.mygov.in/.
The last date for submitting suggestions is 20th March, 2020.
The official of the state science and technology department said plastic waste was being purchased at Rs 75 per kg under the Plastic Waste Purchase Scheme which was launched on 2nd October, 2019. The collected plastic waste can be deposited in the designated centers set up by the Local Urban Bodies. Most people of the state are taking advantage of this scheme. Despite this, the problem of scattered plastic has not been resolved and due to which government wants to strengthen this scheme.
Under this scheme waste purchased from local families and registered waste pickers has been selected. This includes plastic waste used in the packaging of items such as bread, cake, biscuits, cookies, snacks, kurkure, chips, wafers, candies, mattresses, clothes, cheese puffs, ice cream candies, noodles, cereals, cornflakes etc.
In addition, the well-cleaned and dry, plastic waste used in pouches,packaging of a variety of ingredients such as milk, oil, shampoos, hand washes, lassi, yogurt, juices, was also being purchased.
He said that there were different types of plastics waste that are not being purchased under the Plastic Waste Purchase Scheme. It includes heavy plastic waste materials such as plastic furniture, kitchen utensils, toys, electronic, electrical waste.
Apart from this paint bottles, medicine and mineral water bottles, buckets, mugs, biomedical waste bottles, plastic boxes, plastic crockery, jars, tiffins, toilet utility waste items and other recyclable items.