Himachal govt does U turn on investment says all is well !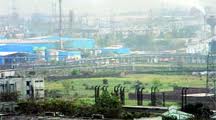 Shimla : Despite the withdrawal of the central excise package two years ago the Himachal Pradesh government said Wednesday that industrial investment continues to flow at a steady pace .
This comes as a surprise as for the last couple of years the ruling BJP government has been complaining to the Centre and asking for restoration of the excise package as its absence was adversely affecting investment in the hill state .
"According to latest figures there are 38,790 registered industrial enterprises . Of these 488 are in the medium and large scale sector ," the state industries minister Kishan Kapoor told reporters here .
"Total investment in these enterprises is about Rs 16,287 crore and 267,000 jobs have been generated ," he said .
"The government has also constituted a land bank involving government and private land . Around 8000 bighas of land has been included in the land bank in eight districts of the state ," Kapoor said .
Talking about the poor infrastructure system in the industrial areas Kapoor said .
"The first phase of the inland container depot(ICD) by the Container Corporation of India(CONCOR) is complete involving Rs 10 crore .The entire project is over 57 crore ."
About the shortage of housing in the industrial zones the minister said work was on to build workers hostels at Baddi to house 1000 persons at a cost of Rs 23 crore .
He said the  state government has also initiated a proposal to set up a trade centre at Baddi and land has been identified to build this Rs 11 crore project .
"Principle approval has been given to set up a mini tool room at Baddi involving a cost of almost Rs 19 crore ," he added .
A hazardous waste management plant has already come into operation at Majra near Nalagarh at a cost Rs 35 crore. A common effluent treatment plant has been approved by the Centre .
The industries minister said a new industrial area has been set up at Lodhi Majra in Solan district covering an area of 650 bighas . Around 1532 bighas is being acquired at Dabhota near Nalagarh and 643 bighas at Kala-Amb .
"Since 2008 the industry department has collected a royalty amount of over Rs 395 crore ," Kapoor said .