Himachal Governor's loud pop show in Raj Bhawan raises eyebrows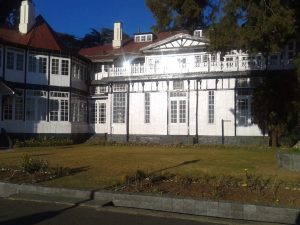 Shimla :Has the Himachal Pradesh Governor Urmila Singh over-stepped by holding a loud Punjabi pop music show in the name of culture at the Raj Bhawan which is housed in a fragile British era heritage building called the Barnes Court.
Hundreds were invited late Sunday to attend pop music programme which blasted into the Himalayan winter night followed by a lavish dinner.
The music system was so loud that the quiet and rickety Tudor style 180 year old building made of wood and stone trembled as the giant stereos played full blast.
Organising such a show in the historical Barnes Court building has angered many here as such an event is in the precincts of the Governor's is unheard of ,say old timers.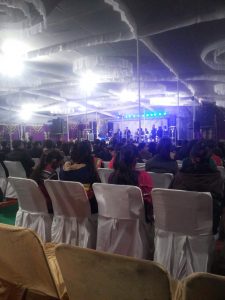 Many said caution should have been exercised by the Governor before holding such a show here.
The Governor's house here is only open to prominent citizens of the state for the formal 'At Home' ceremony on Republic day and Independence day for a brief tea party.
In recent years the Raj Bhawan is not even being used for the oath ceremony of the new government which includes the chief minister and his ministers.Due to fears that excited large crowds gathering here may threaten the heritage property.
Sunday night's celebrations in the Raj Bhawan is seen as Governor Singh's farewell to the people of the hill state. A Congress appointee from Chhattisgarh state. Her tenure ends on January 24, 2015.
Perched atop a Ridge the Barnes Court housing the Raj Bhawan is a majestic Tudor style English building.
In undivided India it served the house of the powerful British Commander-in-Chief and is named after Commander Edward Barnes the first occupant in 1832.
In August 1972 it witnessed history again when after the decisive victory over Pakistan prime minister Indira Gandhi invited Pakistan's Z A Bhutto here and signed the famous Simla agreement.
The main drawing room a table and chairs on which the 'Simla Agreement' was signed have been preserved.
The excited diners on Sunday were seen pushing and shoving each other to get into this room.
So has the outgoing Governor set a bad precedent by holding a big bash event in this fragile monument.