Help Age starts mobile Medicare bus in Solan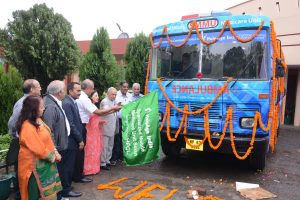 Shimla: Himachal Futuristic Communications Ltd. (HFCL) in association with HelpAge India on Tuesday flagged off a Specialized Mobile Medicare Unit (SMMU) from its manufacturing facility in Solan, Himachal Pradesh.
The Mobile Medicare Unit will have a professional team consisting of one medical consultant, a pharmacist, a social worker, a lab technician, a physiotherapist and a driver.
The team will provide free medical consultancy and diagnostics to the underprivileged segment of the society.
Medicines for common ailments such as hypertension, diabetes and arthritis will be issued to the patients free of cost.
The team will also train caretakers on hygiene, sleep disorders and nutrition?
The Mobile Medicare bus comes equipped with ENT & Eye diagnostic Set, ECG Machine, Minor Surgical & Dressing Set including physiotherapy equipment to help the team to provide best medical help possible.
The customized Tata LP 1512 Bus is fully sponsored by HFCL and is managed by HelpAge India.
This Medicare unit will address the problems of inaccessibility, inability to afford and non-availability of basic healthcare to the underprivileged segments of society.