HC raps Himachal officials on encroachments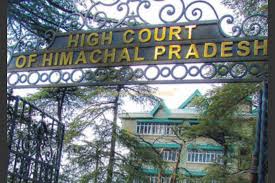 Shimla :The Himachal high court On Monday issued show cause notices to the Divisional Forest Officers-cum-Collectors for non compliance of the orders of the court regarding encroachments on forest land in the state.
The court asked the officers to show cause as to why contempt proceedings be not initiated against them.
The court directed Collector, Appellate Authority and Revisional Authority to decide all the proceedings pending before them within four weeks after hearing the parties.
All the respondents were also directed to follow the directions passed by the court from time to time in letter and spirit.
On 10 May the court had directed Divisional Forest Officer Officers-cum-Collectors to positively complete the proceedings pending before them within a period of two months.
But when the above order was not complied with, the court issued show cause notice against the officers. The matter will be now listed before the court on 8 Aug for further hearing.
A Division Bench comprising the Chief Justice Mansoor Ahmad Mir and Justice Tarlok Singh Chauhan passed these orders on a petition taken up suo moto by the Court as Public Interest Litigation on a letter written to the Chief Justice by Krishan Chand Sarta of Jubbal against illegal encroachments made by the people on forest land.