Every India second phone to be smartphone by 2015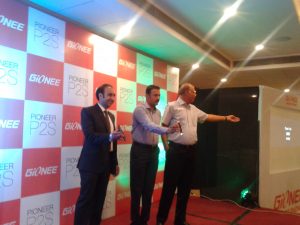 Shimla :Witnessing a big boom the smartphone share market is likely to be a whopping half of the entire mobile phone business by the end of the current fiscal year, chief of Gionee Mobiles India said here Wednesday.
"The demand for smartphones has never been so huge.Within a year the share of smartphones will shoot to 50 per cent from the current 25 per cent," said Arvind Vohra, country head Gionee.
"The biggest reason pushing this demand is faster internet connectivity on phones," Vohra said .
He said 60 per cent of all phones in India are made by MNCs and the rest by local players.
Asked about Gionee's market share in the country he said it was 3 per cent . Last month's revenue growth was Rs 170 crore.
The firm came into operation 15 months ago and was growing now at the rate of Rs 6.5 crore every day .
"By the end of this fiscal Gionee's annual revenue will rise to Rs 2500 crore accounting for 6 per cent of the share in India," Vohra said .
The company on Wednesday also launched its Pioneer P2S model in the country. It is an entry level smartphone at a price of Rs 6499.
The company also claims it is ready to launch the slimmest smartphone in the country this week .
Gionee , a Chinese based company is placed at the 10 th position globally and at no 7 in India, Vohra said.