DD Himachal telecast now round the clock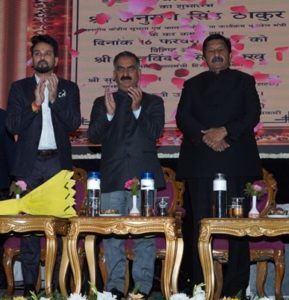 Shimla: Doordarshan Kendra, Shimla's telecast has been dedicated to the people round-the-clock from today.
I & B minister Snurag Thakur said with the commencement of the 24-hour telecast from DD Himachal, not only the news of the hill state but also the culture and traditions will get national and international level recognition.
While talking about the rich cultural heritage of the state The minister said the State will have the opportunity to take the art, Culture and literature of Himachal Pradesh to every nook and corner of the world through the medium of Doordarshan.
The 24×7 Channel will telecast about the important tourist destinations, religious places, sports, adventure, local handicraft, artisans and stories related to the lives of our brave soldiers.
It will also address issues concerning the state's people. This will not be limited to Himachal Pradesh but will be available throughout India with  free DTH Dish so that Himachalis living in other parts of the country can remain in touch with their roots and culture.