Canada should be ready to press China over Tibet: exiled PM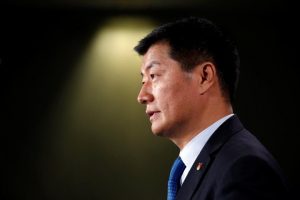 The Canadian government can show China how to treat a region seeking autonomy and should use its experience in dealing with Quebec to press for improved human rights in Tibet, the Himalayan region's political leader said on Tuesday.
Prime Minister in exile Lobsang Sangay, like Tibetan spiritualist leader Dalai Lama, backs the so-called middle way that seeks autonomy within China. Beijing accuses the Dalai Lama of being a "splittist" seeking independence. Talks between the two sides broke down in 2010.
Sangay's visit, guaranteed to upset Chinese authorities, coincides with Liberal Prime Minister Justin Trudeau's attempts to improve economic ties with China.
"The Canadian government is on very high and moral ground and they can say with confidence and share the Canadian experience, and say 'This is how we treat our people, how we solve the issue,'" Sangay said in an interview.
English-speaking Canada has spent years negotiating with separatists in the predominantly French-speaking province of Quebec, a quest for autonomy that began in the 1960s.
Although Canadian voters turned down constitutional changes to give Quebec special recognition in a 1992, the province enjoys broad powers of self-governance, including the right to insist that French be the official language.
Asked what would happen if China did not listen to such a message, Sangay replied: "Then you have to press a little bit more, as a friend, and say 'This is the right approach, we have done it at home.'"
In a statement, the Chinese embassy said "Tibet-related affairs fall entirely within the domestic affairs of China which allow no foreign interference."
The Dalai Lama has met both Canada's last two prime ministers – Liberal Paul Martin and Conservative Stephen Harper – and hopes to sit down with Trudeau on his next visit, which might be next year, said Sangay.
Trudeau's father, former Liberal Prime Minister Pierre Trudeau, was in power when Canada accepted refugees from Tibet in the early 1970s.
"His father has a good track record on the issue of Tibet and I hope the son will continue the same legacy," said Sangay.
Foreign Minister Stephane Dion has raised Tibet with his Chinese counterpart Wang Yi twice this year and will continue to have frank discussions with Beijing on human rights, said spokeswoman Chantal Gagnon.
Sangay, who is due to meet legislators, declined to say whether he would be talking to government officials.