Britain hands back George Cross to Indian widow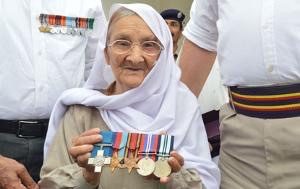 Almost 70 years after her soldier husband was posthumously awarded the George Cross by Britain, the stolen gallantry medal was again handed back to his octogenarian Indian widow
On Monday Brigadier Brian McCall, defence attaché of the British high commission in India handed back the bravery medal to Brahmi Devi at a public function in her village in Himachal Pradesh's Bilaspur district some 90 km from here.
81 year Devi is the widow of Naik Kirpa Ram who was posthumously awarded the George Cross in 1946 by Field Marshall Lord Wavell.
Devi was only 14 years old when her husband died in action. But in 2002 the medal was stolen from her village and it resurfaced at an auction in Britain some six years ago.
British authorities stopped the auction of the medal in London in Dec 2009. Indians in Britain raised Rs 12,000 pounds to buy the medal from a retired Indian army officer who had bought the medal at an antique shop in New Delhi.
Ian Mayes, a British barrister fought Brahmi Devi's case for free.Attending the ceremony on Monday in Bilaspur he said, "Incidentally,I fought a case for the first time without even meeting my client."
Born in 1916, Naik Kirpa Ram of the 13 the Frontier Force Rifles died during a field exercise when a rifle grenade misfired close to his unit in Bangalore in Sept 1945.
"28 year old Ram leapt forward screaming at his comrades to take cover. He was killed while throwing away the grenade as it exploded in his hand," said Brig Brian McCall.
"We are proud to give back the medal back to the legal heir after retrieving it to a courageous old woman.We hope it will be kept safely now," McCall said.
In the last few years despite being frail Brahami Devi made several representations to the British government with the help of the Indian government to get back her husband's medal.
"Since the age of 14 I have lived with this medal as a token of eternal rememberance until it was stolen in 2002," said a smiling Brahmi Devi.
"I am so glad to get back my husband's George Cross today," she said.