55 year old Nautor rules are back in Himachal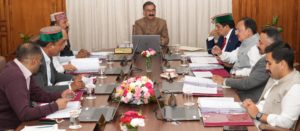 Shimla: The Himachal Pradesh cabinet today decided to implement H.P. Nautor Rules, 1968 for a period of two years subject to conditions.
The area should not fall in National Park,Sanctuary,Conservation Reserve,Community Reserve,Reserve Forest,Demarcated Projected Forest.
The number of trees standing over the land proposed to be allowed as Nautor should not exceed two. It will be provided for domestic purpose only and the person shall not be involved in any kind of forest offences.
The Himachal Pradesh cabinet gave its approval to rationalise the charges of services being provided by the Lok Mitra Kendras in the state.
The Cabinet also gave its nod to Himachal Pradesh Goods and Services Tax Bill, 2023 on the analogy of CGST Act in order to implement recommendations made by the GST Council.
The Cabinet decided to create and fill-up additional 136 posts of nursing and para-medical staff in order to make Trauma Centre and Emergency Medicine Department, IGMC, Shimla.
It would ensure that all the related six departments, Neurosurgery, Radiology, Plastic Surgery, Anaesthesia, Orthopaedics and General Surgery will function in three shifts round the clock.
The Cabinet decided to fill up 87 posts of different categories in various Municipal Councils and Nagar Panchayats.