22 dead as bus plunges into Gobind Sagar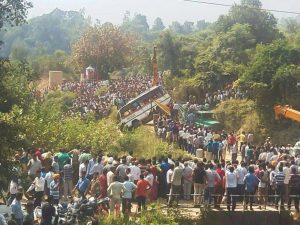 Shimla:Twenty two people were killed when a bus fell into a lake(reservoir) in Himachal Pradesh's Bilaspur district Wednesday, there are fears the toll could rise, police said.
"22 people were killed and 14 injured have been rescued," Ashok Kumar a senior police officer at the spot said by phone.
Divers are looking for more bodies as there were people on the roof of the 40 seater bus when it fell into the Gobind Sagar reservoir, eyewitnesses said.
"The bus has been fished out of the water," Kumar said.
The bus was on its way to Bilaspur town from Rishikesh when it fell into the lake some 100 km from the state capital Shimla.
The Gobind Sagar reservoir lies in the Himalayan foothills on the Sutlej river which feeds the Bhakra Nangal hydro electric project.